How to Complete Form 8038-CP with ExpressTaxExempt
An easy, step-by-step guide for e-filing Form 8-38-CP!

|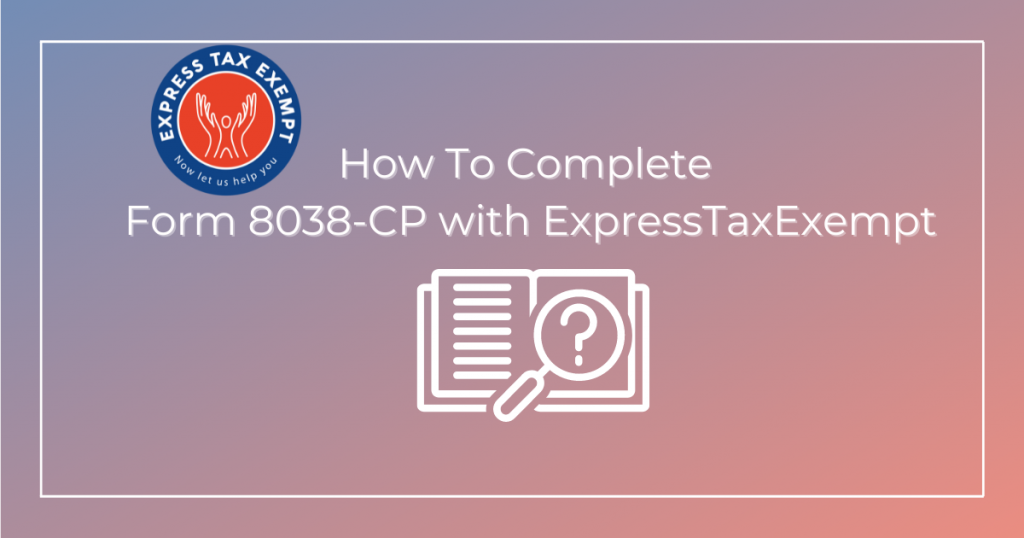 Form 8038-CP Return for Credit Payments to Issuers of Qualified Bonds is used by issuers (generally, tax-exempt organizations are elected by the federal government to issue the bonds) to claim payments from the federal government representing all or a portion of interest payable on
To get started, log into your account, review your Tax Year and Organization information and click on the 8038-CP tab in the upper right of the screen.
Click "Start Now"
The first page is the Organization Details page. Verify the organization and the details provided. If it is not accurate, you can adjust the details or select an alternate organization from the drop-down menu. Once you have verified that all the information is accurate, click "Next".
If the receiver details are the same as the reporting authorities, you can click "Yes" to auto-populate the information. If the reporting authorities' details are different than the receiver's details, click "No" and provide the necessary information.
To add a bond, click "Add Bond" from the upper right of the screen. If you have multiple bonds to add, you can click "Add Another Bond". Once you have added all the bond details, click "Add" to proceed.
Once all bond details have been added, you will need to click "Proceed to file" to continue to the 8038-CP form.
Complete all pages of the return using the navigation bar on the right.
Once all information on the return and the accompanying schedules has been completed, click the "Audit Errors" tab and resolve any necessary errors.
When all errors have been corrected, click the orange "Save and Continue to Audit" button at the top right of the return.
Review the detailed summary of your return and click the orange "Continue to Audit" button at the lower right of the screen.
The final Audit report page will confirm that all audit errors have been resolved. You can proceed by clicking the orange "Next" button at the lower right of the screen.
You can opt for text or fax alerts on the service fees page. If you choose to include a text or faze alert, you will be asked to provide the phone or fax number. Then you can click "Next" and provide your credit card details.
Once you have processed your payment, you will be directed to the transmission page. Enter a 5-digit PIN of your choice, review your order information, and click "Pay and Transmit to the IRS".
Note: Your form will NOT be transmitted if you do not click the green box "Pay and Transmit to the IRS"
You have now completed and transmitted your 8038-CP form. Continue to check your account to track the status of this form and any others that you file!
Want to see steps for other types of organizations or other 990 series forms and schedules? Stay tuned for upcoming "How-to Tuesday" blogs!
Are you ready to get started with ExpressTaxExempt? Create your free account today!