Time Is Running Out: File A Tax Extension Form 8868 Today
The due date for Form 990 is here! Nonprofit or charitable organizations worldwide have completed or are in the process of completing an IRS Form 990 to maintain tax-exempt status for their organization.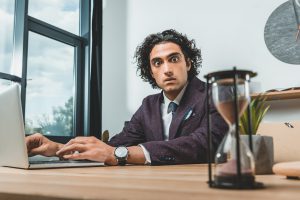 With only hours left to e-file Form 990 before the midnight deadline, here is how to beat the 990 extension due date 2017 by quickly filing tax extension Form 8868. Let's be honest; you can rush through filing your 990 tax form today and possibly make major mistakes, or you can apply for a Form 990 extension. Time is running out: file a tax extension Form 8868 today!
Time Is Running Out: File A Tax Extension Form 8868 Today
If you need more time to e-file Form 990 you can file an extension for Form 990 and receive six additional months to file.
Not that we're saying filling out a tax-exempt return is a brisk, afternoon activity (trust us, we know). But six months is a fairly long time… Until the time is up.
Unfortunately, today is the 990 extension due date for 2017 tax returns for nonprofit organizations operating on a calendar year.
Tax-exempt returns that are due today must be transmitted by midnight (local time), so head on over to our homepage where all your exempt organization e-filing needs can be easily met.
Even consider using our sister product TaxBandits, the new #1 home for everything tax exempt,
where you can transmit your Form 990 or apply for IRS Form 8868 using one account, and still enjoy the same e-filing features you've come to trust with ExpressTaxExempt.
Our live support team in Rock Hill, South Carolina is at the edge of their seats waiting to speak with you about any questions or concerns you may have about e-filing IRS Form 990 or an IRS Form 990 extension.
Give us a call at (704) 684-4751, Monday through Friday from 9 a.m. to 6 p.m., EST. Since it's "deadline day" we are even going to stick around a few extra hours to be of assistance.
We can also be reached 24/7 through [email protected], or chat with us live.