ExpressTaxExempt is Rebranding as Tax990!
We're excited to announce we're rebranding with a new, streamlined name!

|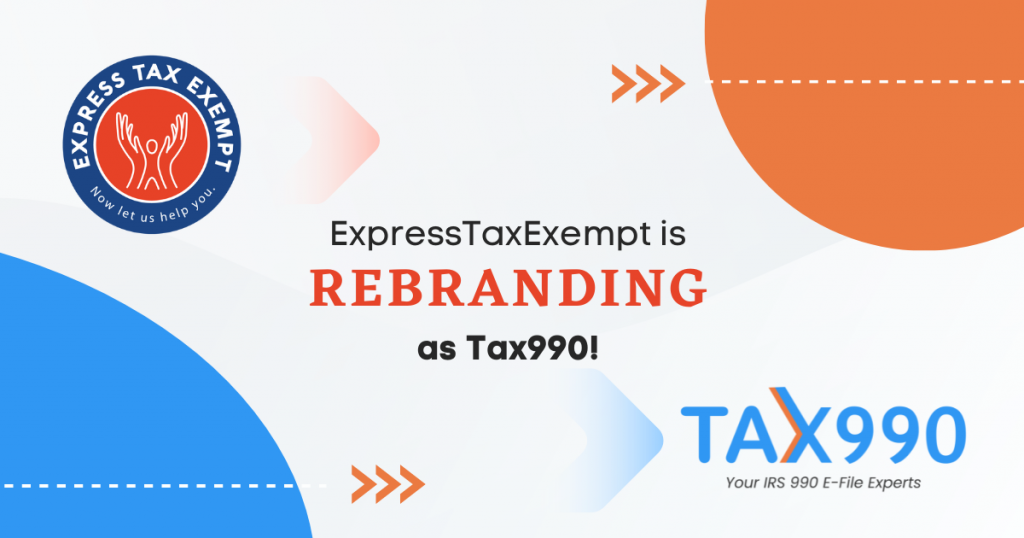 ExpressTaxExempt is excited to announce that we're rebranding as Tax990!

After serving as the nonprofits' trustworthy e-filing solution for 7 years, we've rebranded to make our brand easily recognizable for our clients.

Tax990 is a simpler and more streamlined name fit for our streamlined application. Although the name is changing, we'll still be the same great e-filing provider.

We will continue to offer the same e-filing experience. All our features and the filing process will remain the same. The only thing changing is our name.

You'll still be able to file your 990 series returns with us using our Interview-style or Direct-form entry filing options. We'll still support Schedules and the extension form 8868.

You can still visit our website for more information regarding 990 series returns and how to successfully file them. Please navigate to Tax990.com to view all of our helpful resources, such as our blogs, videos, and FAQs.

Our great team will continue to assist you through your filing process. You can email, call, or chat with us online. We can be reached at [email protected] or (704) 839-2321 from 8:30 AM – 5:30 PM EST, Monday through Friday. We're ready as ever to answer any questions you may have about our application, so don't hesitate to reach out!

We're excited about this change and can't wait to continue serving your needs.
Take advantage of all of our wonderful features and support today!