Meet your April 18 990 Series Return Deadline with ExpressTaxExempt
|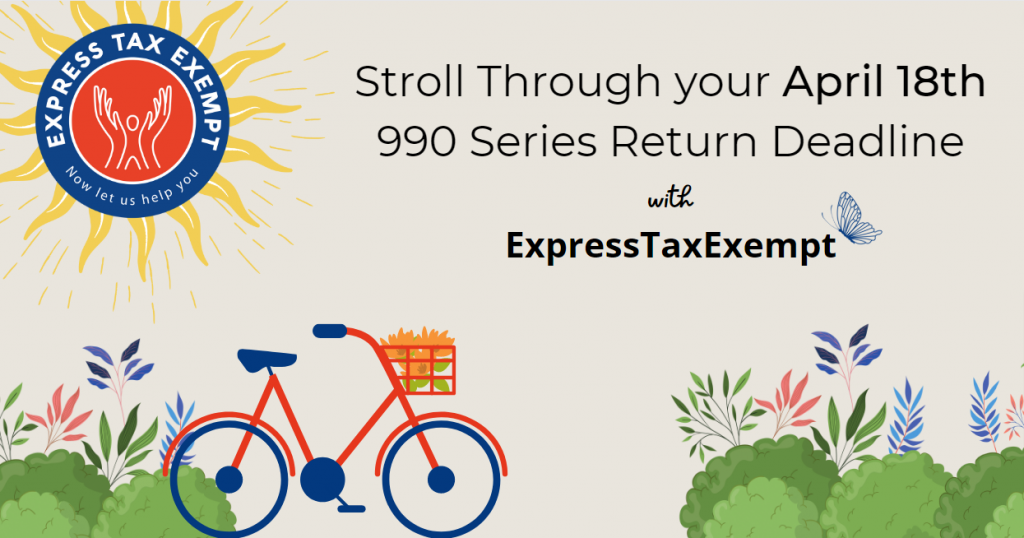 Spring has officially sprung! Don't let the April 18th 990 series return deadline keep you from enjoying the nice weather. ExpressTaxExempt is here to make your filing process as simple and straightforward as possible so that you can get back to helping your organization bloom.

Organizations whose tax year ended on November 30th or who filed extension Form 8868 on October 15th have a 990 series return filing deadline of April 18th, 2022.

990 Series Return:

ExpressTaxExempt supports e-filing for Forms 990-EZ, 990, 990-N, 990-PF, 990-T, 1120-POL, and extension Form 8868. The form your organization should file is based on IRS requirements and is dependent on organization size, function, and gross receipts. 
It can be confusing trying to figure out which form to file for your organization. Click here to tell us about your organization, and ExpressTaxExempt will suggest a Form 990 for your organization.   

ExpressTaxExempt supports most of the Schedules for Form 990, which are auto-generated depending on the information provided when preparing your nonprofit Tax Form 990 return.

Additional Assistance:

It takes a team to operate a successful non-profit organization. From fundraising events to volunteer programs, even filing a 990 series return! With ExpressTaxExempt, you don't have to file alone! ExpressTaxExempt provides clients with different ways to receive additional assistance as they file:

Manage Additional Users: Organizations can add staff members and key employees to their accounts for additional assistance in filing and reviewing their annual return. Adding additional account members is simple and provides staff with access to help manage your organization's account details.

Use this feature as a convenient way to lessen the amount of work that follows filing your return. Try it for yourself today!

Manage Reviewers and Approvers: Invite organization members to review your 990 return, add comments, and make changes if needed with ExpressTaxExempt! Afterward, reviewers and approvers can approve the return via digital signature. 

Live Customer Support: You're never alone when you e-file with ExpressTaxExempt! ExpressTaxExempt's live customer support team is available to answer questions and provide assistance via phone, email, or chat!

Why choose ExpressTaxExempt?

Easily prepare forms using our form-based or interview-style process
Invite others to review and approve your return before filing
Catch and correct IRS instruction errors conveniently with our internal audit
Cloud-based software allows you to access your account from anywhere
Schedules are included for no additional cost
Contact our dedicated support team via chat, email, and phone
Add additional organization members to assist with form preparation 
Retransmit rejected form at no additional cost
ExpressTaxExempt

To e-file a 990 series return with ExpressTaxExempt, follow these simple steps:
Enter your organization details
Choose the tax year you are filing for
Complete form details (easily prepare your form using our form-based or interview-based process)
Review your form and make any necessary corrections
Sign and transmit your 990 series return to the IRS
Meet your April 18th 990 series return deadline today with ExpressTaxExempt!