Make ExpressTaxExempt Your Go-To Spot For Convenient and Accurate 990 Series E-filing!
ExpressTaxExempt makes e-filing simple and efficient for nonprofit and tax-exempt organizations!

|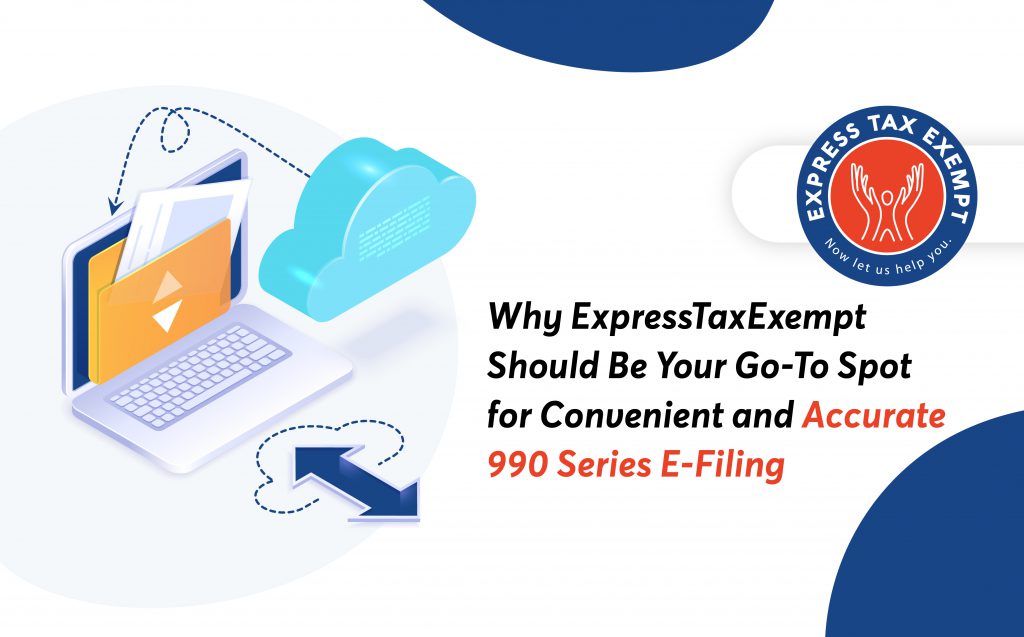 ExpressTaxExempt is dedicated to helping nonprofit, and tax-exempt organizations remain tax compliant and file their annual tax returns quickly and easily. Whether you need to file Form 990, 990-N, 990-EZ, 990-PF, CA Form 199, 1120-POL, or Extension Form 8868, ExpressTaxExempt has got you covered! All of the valuable features ExpressTaxExempt has to offer are designed specifically to make Nonprofit tax filing easier.
Here are a few ways that ExpressTaxExempt can make e-filing 990 series returns simple for your organization:
Simplified E-Filing

As an IRS-authorized e-filing provider that focuses solely on nonprofit and tax-exempt organizations, ExpressTaxExempt is one of a kind! Now that filing 990 series returns electronically has been mandated, having a trustworthy e-filing service by your side is as important as ever!

E-filing is a quick, secure, and more accurate method than paper filing. It also allows the IRS to process returns at a much higher rate. And, when you use an e-filing service, the process becomes even more streamlined.

When filing your return with ExpressTaxExempt, you can choose between form-based or interview-style filing, and you will be guided through the filing process with helpful prompts from start to finish. After your return is submitted to the IRS, ExpressTaxExempt will provide you with text and email updates regarding the status of your Nonprofit tax return. With ExpressTaxExempt, e-filing is effortless!
Cloud-Based Software

ExpressTaxExempt's cloud-based software ensures that your returns are secure and that you can access your account from anywhere.

If you've filed with ExpressTaxExempt before, it's easy to view your past returns! In addition, filers can download and email their returns in PDF format with just a few clicks. Also, if you're filing a return and don't have time to finish it in one sitting, there's no need to worry! Your work will be saved automatically, and you can continue filing your return from right where you left off.
Another major benefit of filing your Form 990 series returns with ExpressTaxExempt is the copy return feature. For example, if you filed your previous year's 990/990-EZ return with our software, you could easily copy information from those returns on future returns. This makes your next year filing even more convenient and efficient!
Expert Assistance

With ExpressTaxExempt, you never have to submit a 990 series return alone!

With ExpressTaxExempt, filers can invite users to review their IRS 990 series form, add comments, and suggest any necessary changes. After they've reviewed the return, they can approve it with a digital signature. The filer can then view the comments and make any suggested changes. Filers can also add staff members to their accounts to assist them with filing!

During your filing process, ExpressTaxExempt's support team will also be there to provide expert assistance whenever you need it. They are available via phone, email, and live chat. Clients can also take advantage of ExpressTaxExempt's internal audit feature, which will identify IRS instruction errors on a return that need to be corrected. 

Filing Solution for Tax Professionals

If you are a tax professional, choosing to e-file with ExpressTaxExempt will make your filing process much easier!

Whether your business needs to file 990 Forms for 20 clients or 2,000, ExpressTaxExempt is here to help! Our system makes filing quick and easy and gives you the ability to manage all of your clients from a single login account. In addition, you can add unlimited businesses to your account and keep all of your clients and returns organized by EIN.

While our support team will always be there to assist you, we also provide tax professionals with an account manager. The account manager will work closely with your organization, and you can contact them directly through phone or email if you ever have any questions.

As an added bonus, we offer discounted pricing for tax professionals. What's not to love about discounted pricing! We have specific pricing packages for tax professionals, including preferred pricing and prepaid credits. Learn more about the tax professional pricing here!

ExpressTaxExempt

What sets ExpressTaxExempt apart from other e-filing services? ExpressTaxExempt offers exclusive features to enhance the 990 filing process.

As a nonprofit or tax-exempt organization, we know you do a lot for your community. That is why ExpressTaxExempt always aims to provide organizations with the most simple and efficient e-filing process. With ExpressTaxExempt, remaining tax-exempt and meeting your filing deadlines is easy!