ExpressTaxExempt is Now Accepting Form 990 Series E-Filing for the 2021 Tax Year
File your 2021 990 tax return with ExpressTaxExempt!

|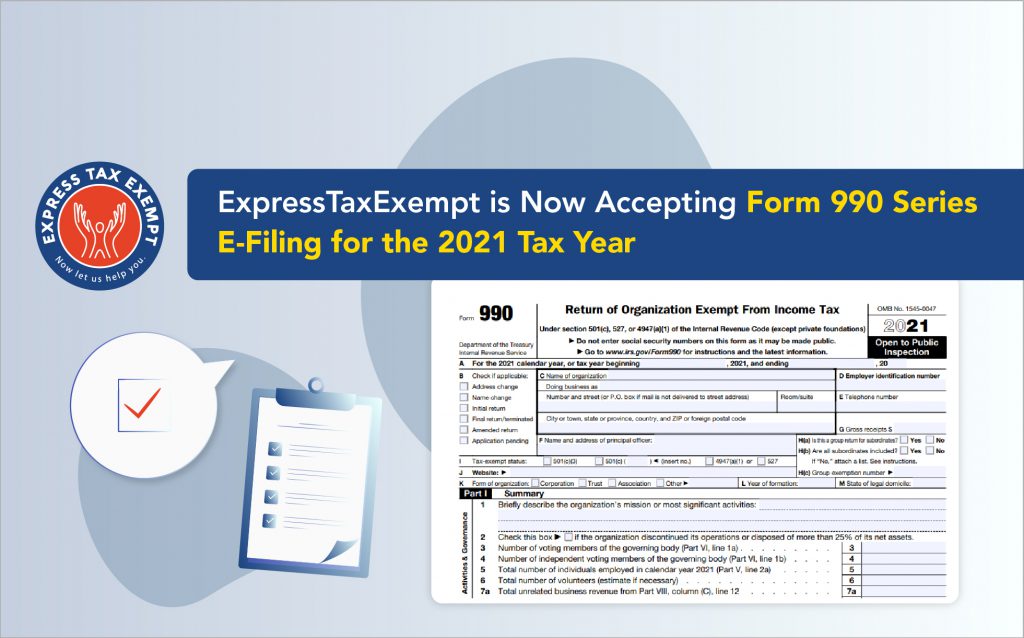 It's a new year, which means your organization has new annual IRS filing requirements. As of January 01, 2022, ExpressTaxExempt is now accepting Form 990 series e-filing for the 2021 tax year.

ExpressTaxExempt supports e-filing of Form 990, 990-EZ, 990-PF, 990-N, 990-T, CA 199, 1120-POL, and extension Form 8868. ExpressTaxExempt's cloud-based software ensures that returns are transmitted to the IRS securely and efficiently.

Electronic Filing

The IRS has mandated that all 990 series returns are filed electronically. E-filing makes transmitting returns to the IRS quick and easy. Also, with e-filed returns, the IRS is able to process them at a much faster rate than paper-filed returns. ExpressTaxExempt is an IRS authorized and trusted e-filing provider that will assist in filing 990 series returns properly and on time!

Filing Deadlines

For most 990 series returns, the deadline to file is the 15th day of the 5th month after the end of the organization's fiscal year. Considering organizations have different tax year-end dates, they will also have different 990 series deadlines. You can use the ExpressTaxExempt due date calculator to determine your organization's 990 filing deadline and applicable extended due date.

If a deadline falls on a Saturday, Sunday, or legal holiday, the due date will be moved to the next business day.

Which 990 Form Do I Need to File?

There are multiple 990 series forms and there are specific guidelines regarding which form an organization needs to file.

If you are still unsure which 990 series Form your organization needs to file, you can use our Form 990 Finder. Simply scroll through the organization types, select the one that applies, and follow the prompts to see which form is commonly filed. As an IRS-authorized e-filing provider, ExpressTaxExempt helps make filing user-friendly and secure.

Late Filing Penalties

If an organization doesn't file its 990 series form on time, it may be subject to penalties from the IRS. If the organization doesn't provide a reasonable cause for filing late, these penalties can increase daily.

If an organization fails to file its 990 series form for three consecutive years, the IRS may revoke its tax-exempt status. If your organization's tax-exempt status is revoked, you will need to go through the application process again to have it reinstated.
ExpressTaxExempt

Nonprofit and tax-exempt organizations can visit expresstaxexempt.com to e-file their 990 series return for the 2021 tax year.
---
Do you need to file your year-end tax returns? Our sister product TaxBandits has you covered! TaxBandits supports e-filing for form W2, 1099-NEC, 1099-MISC, and Forms 940/941.  With its bulk upload feature, you can easily upload all your employee details for faster filing. TaxBandits can also help you fulfill your state filing requirements. Simplify your year-end filings with Taxbandits!
In case you are looking for the best paystub generator to create check stubs for your business. Check our sister product 123payStubs, to instantly create pay stubs for your business. Explore now! Get your pay stub template for free.