ExpressTaxExempt is Celebrating Volunteers all Week Long with 7 Ways to Show your Volunteers Appreciation
Celebrate National Volunteer Week with ExpressTaxExempt. Show your appreciation today with 7 creative ways to celebrate volunteers!

|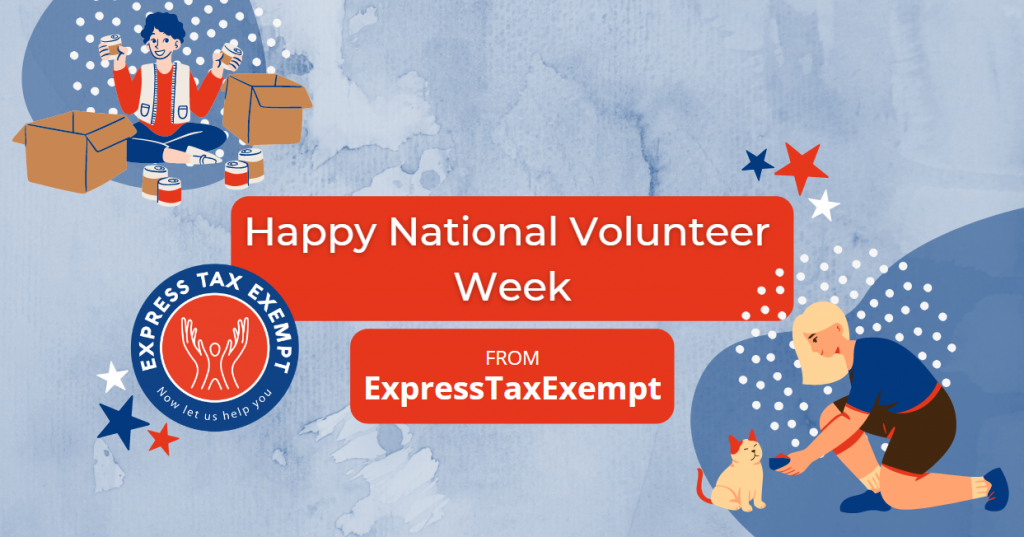 April 17-23 is National Volunteer Week. This week is the perfect opportunity to celebrate the volunteers who help your nonprofit or tax-exempt organization operate on a daily basis. Through their selfless contributions, your organization is able to support and empower your community. 

ExpressTaxExempt wants to help your organization celebrate volunteers of all shapes and sizes this week. For that reason, we've written this blog with ways to celebrate your volunteers in honor of National Volunteer Week. 

National Volunteer Week can be more than just celebrating volunteers. It is also a great opportunity to encourage volunteerism within your community or organization.

Here's how:

Celebrate your Volunteers:

1. Throw a Party: Who could say no to a party? Show your volunteers you care by celebrating them with an appreciation party. Throwing a party, instead of a banquet or silent gala, can feel more personal and fun. Surprise your volunteers with a trendy or popular location they may enjoy. For example, if your organization is an animal rescue your volunteers may appreciate going to a cat cafe or a nice park with a petting zoo. 
2. Award your Volunteers: In the spirit of National Volunteer Week, recognize your volunteers with a small gift that shows them their work does not go unnoticed. If you know what your volunteers like, try to personalize gifts to them. 
This may be more difficult for larger organizations. If that is the case, try awarding your most dedicated volunteers with larger gifts. For example, some nonprofits track how long each volunteer has volunteered with the organization. If you have volunteers who have worked with your organization for 5, 10, or even 15 years acknowledge their time with your organization with a bigger award. 

3. Handmade Cards: There's just something about a handwritten card that feels special and personalized. Recognize your volunteers with a handwritten card, signed by all of your key employees. This way, your volunteers can see you took time out of your day to show a little bit of extra appreciation. 
4. Get your Community Involved: Volunteers don't just help your organization grow, they support your entire community. Ask your community to write letters of appreciation for your volunteers. Hand out letters individually or hang them on your volunteer wall or designated volunteer room. 
Reach out to local elementary schools to see if any are willing to send hand-drawn pictures or letters from students. 

5. Organization-Themed Gifts: Volunteers cherish the time they spend with your organization. Chances are if they are volunteering their time to your cause, they are truly passionate about the work your organization does. This National Volunteer Week, give your volunteers a piece of your organization. 
Here are some ideas for organization-specific gifts:
Libraries: books, bookmarks, bookstore or cafe gift cards 
Schools: offer your volunteers a night of learning. Bring in a professional to teach a course on a subject you think would be interesting to your volunteers. 
Food Bank or related Charity: recipe book, tasty treats, personalized aprons 
Animal Rescue: discounted adoption, dog treats, stuffed animal key chain
6. T-Shirts: You can never have enough t-shirts. Make your volunteers t-shirts celebrating National Volunteer Week 2022 with your organization's logo on them. This way your volunteers can show off how much they love volunteering at your organization!

7. Tickets: Do you have a local minor league baseball team or dinner theatre? See if your organization can get a group deal on tickets and invite your volunteer team out for a night of fun on the house!
Invest in your Volunteers: 

National Volunteer Week shouldn't just be one week out of the year. Keep the spirit of appreciation strong throughout the entire year. The best way to retain volunteers is by respecting their contributions and showing them the work they do every day matters.

Here are a few ways your organization can invest in its volunteers:
Communicate: Don't keep your volunteers in the dark. Show them they are an important part of your organization's operations by keeping them updated on new opportunities, upcoming events, and other important information.  
Listen: It's probable your volunteers see things that you miss. Listen to their concerns, questions, and suggestions. Listening to your volunteers and acting on their suggestions is one of the easiest ways to improve your volunteer program!
Leadership Opportunities: Reward volunteers who have invested time into your organization by allowing them to develop new skills in leadership positions within your organization. 
If your organization is struggling to find volunteers, try bringing current volunteers to community events, and have them talk about their experience volunteering.

ExpressTaxExempt

ExpressTaxExempt wants to take the time to acknowledge the selfless work performed by volunteers each day! Thank you for everything you do to support our communities!

"No act of kindness, no matter how small, is ever wasted."
-Aesop