ExpressTaxExempt is Celebrating Firefighters with Recruitment and Retainment Tips
Today is International Firefighters' Day and ExpressTaxExempt is honoring Firefighters past and present with recruitment and retainment tips.

|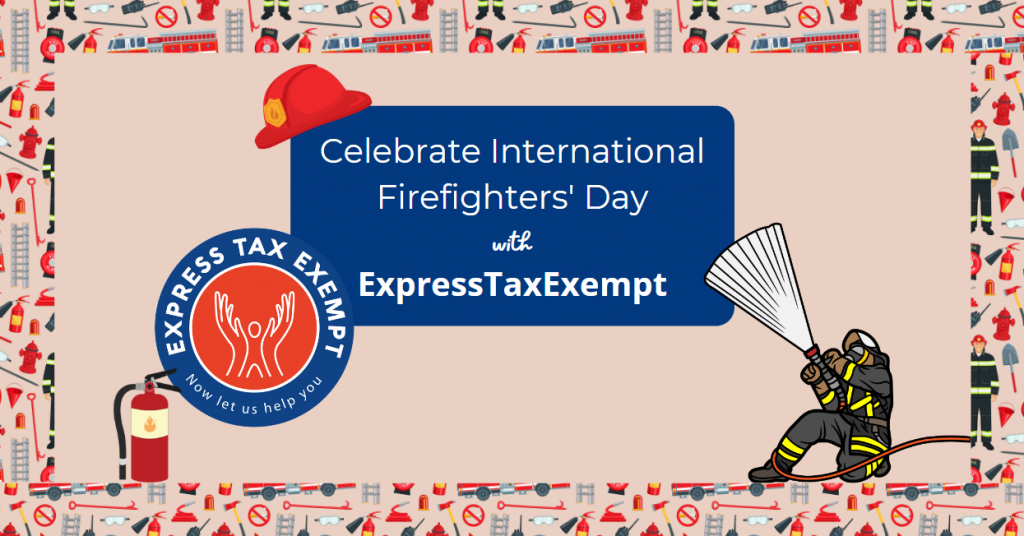 Firefighters work hard each day to support our communities through the protection of people and property. Each year, May 4th marks International Firefighters' Day. Firefighters come in all shapes and sizes as both career firefighters and volunteer firefighters. Fire departments, both paid and volunteer, face many challenges each year.

Today, in honor of International Firefighters' Day, ExpressTaxExempt is taking the time to celebrate firefighters with tips for maintaining your Fire Corps tax-exempt status and ways to increase retention and recruitment within your department.

Let's get started!

Fire Corps Program IRS Compliance

Generally, Fire Corps programs will file as a 501(c)(3) organization, although some departments file under Section 501(c)(4) as a social welfare organization. It is important for a department to obtain and maintain its 501(c)(3) status so that it can enjoy the benefits of a tax-exempt organization including, funding and grant opportunities, as well as donations. Additionally, your organization may qualify for certain exemptions from income, sales, and property taxes.

Fire Corps programs do more than protect their community, they also work tirelessly to educate their community on the importance of fire safety. As a 501(c)(3) organization, your program may be eligible for free radio and PAS announcements and discounts on local advertisements. This gives your organization the ability to further educate and inform your community!

Here are some steps your organization can take to obtain its tax-exempt status:

1. Defining your Organization: Before you begin, take the time to create a foundation for your organization. What is its name? Who are the board members? What bylaws have you outlined for your organization? This information should be defined and detailed before you file to obtain your tax-exempt status.
2. Certification of Incorporation: In order to obtain tax exemption, the IRS requires your organization to file a certification of incorporation to define the purpose and existence of your organization. Think of your certification of incorporation as an outline of the benefits of incorporating your organization. For more information and instructions on how to file, contact your state's Secretary of State.
3. Employer Identification Number (EIN): All tax-exempt and nonprofit organizations must apply and obtain an EIN with the IRS. Click here to apply for an EIN on the IRS website.
4. Determination Letter: A determination letter is an official document from the IRS defining your organization's tax treatment. This letter determines whether your organization can be considered tax-exempt or not. Click here to request a determination letter from the IRS.
5. State and Local Tax Exemption Status: Once you have obtained a determination letter confirming your federal tax-exempt status, you will want to contact your state and local department of revenue to obtain tax exemption status on the local level.
6. Protect your Status: Once you have obtained your tax exemption status you need to maintain this status through annual filing. ExpressTaxExempt is here to help your organization remain tax-exempt with seamless e-filing options. ExpressTaxExempt supports Form 990, 990-EZ, 990-N, 990-PF, 990-T, 1120-POL, and extension Form 8868.
Easily prepare forms using our form-based or interview-style process, schedules are included at no additional charge. Our live customer support team is available to support you via chat, email, or phone.

File today with ExpressTaxExempt!

Recruitment and Retainment

Fire Departments, especially volunteer departments, have seen a decline in recruitment in recent years. One of the most effective ways to retain firefighters is to have a healthy department environment. Many like to point the finger at younger generations, accusing them of not being as motivated or selfless as older generations. However, a healthy department is one that has a mix of both young and old firefighters. Young firefighters act as a source of motivation for older firefighters and bring new energy to the department, while older firefighters have the knowledge to share with younger members that can help them avoid serious injury when on the job.

Many volunteer departments struggle to find new volunteers because people have busy lifestyles and no longer have the time to dedicate to their local department. Most people would choose to donate money over donating their time.

If your department is struggling to find new volunteers, ExpressTaxExempt has compiled a list of recruitment tips:

Review Leadership: Environment is more important than ever for potential recruits. No one wants to voluntarily spend their free time in an environment that makes them feel uncomfortable. Your leadership team says a lot about your department and is likely the first people your potential recruits will interact with. If you notice leadership is creating a toxic environment, through hazing and inappropriate behavior, it is time to seek a change in leadership.
Officer Selection Process: Along the same lines of reviewing your leadership team, it may be time to review how officers are selected within your department. Who is most qualified to represent your department as an officer and how will they demonstrate this to your team? Consider changing your selection process by implementing a test to measure eligibility or an election so that every member of your department has a say in the selection.
Sign-on Bonus: Businesses across America are struggling to find employees and many are offering a sign-on bonus. If your volunteer fire department has the funding and support, it may be worthwhile to consider if a sign-on bonus would bring more potential recruits through the door.
Referral Bonus: Show your appreciation for current volunteers who recruit a new team member by offering a referral bonus. This will show your current volunteers that you appreciate them, which could help increase your department's retainment rate.
Increase Awareness: Community members may not realize how dire the situation is for their local volunteer department or they may not even realize there is a volunteer department right down the road! Increase awareness for your department by posting volunteer opportunities on social media and firefighting recruitment pages. Click here to learn how you can advertise open volunteer positions.
Training: The better your training program is the more prepared your recruits will feel. A strong training program can turn potential recruits into long-term volunteers. Make sure you properly outline expectations and responsibilities early on in the training process. If a potential recruit feels as if their time is being wasted, they are not likely to return.
Is your department recruit ready?

Is your department ready for new recruits? Make sure your current volunteers know that potential recruits will be in and out of your department. An important aspect of recruitment is a welcoming environment. No one will want to voluntarily spend their time in a place where they suspect they will be disrespected or ignored. Instruct your current volunteers on how to welcome potential recruits so that they feel supported coming into a new environment.

One way to create a healthy culture within your department is to show your appreciation for your current volunteers. Volunteers who feel respected, supported, and appreciated are much more likely to stay and promote your department to other potential recruits. Click here for some ways to show your current volunteers appreciation.

ExpressTaxExempt

ExpressTaxExempt would like to thank all firefighters, career and volunteer, for the work they do each day. Let us support your department by helping simplify your department's 990 series return. ExpressTaxExempt is here to help your nonprofit or tax-exempt organization succeed. Check out ExpressTaxExempt's blog for IRS requirement updates and helpful tips for your nonprofit or tax-exempt organization.

Does your organization operate on a calendar tax year? If so, you may have a return deadline of May 16, 2022. Click here for more information regarding the May 16 deadline.