ExpressTaxExempt Introduces Finance Fridays Starting with Better Budgeting Tips
Join ExpressTaxExempt as we break down each component of financial literacy in a series entitled Finance Fridays in celebration of Financial Literacy Month.

|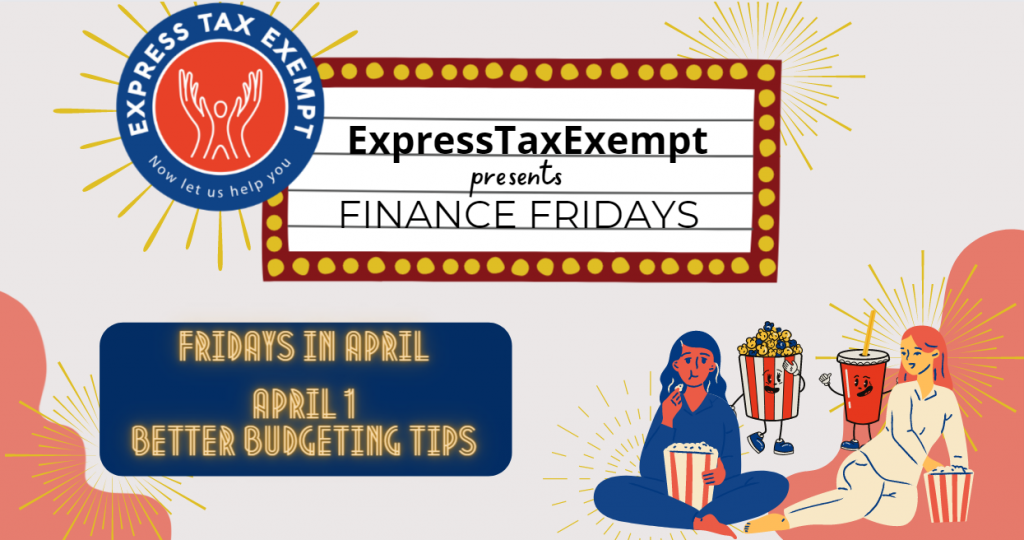 Celebrate Financial Literacy Month with ExpressTaxExempt

April is Financial Literacy Month. Nonprofit organizations do a lot to keep their communities happy, healthy, and safe. You've mastered helping others, but if the thought of your organization's financial health has you stressed out, ExpressTaxExempt is here to help you!

We understand that many nonprofit organizations were hit especially hard by the COVID-19 pandemic and have dealt with constant waves of change and uncertainty. This means it is more important than ever for these organizations to increase their financial literacy.

There are 7 components of financial literacy: budgeting, interest, debt management, credit, identity theft protection, savings, and financial goals. This month, ExpressTaxExempt is dedicated to helping you understand how these components impact your organization's financial health. 

Join ExpressTaxExempt as we break down each one of these components in a series entitled Finance Fridays in celebration of Financial Literacy Month. And no…this is no joke! So stop by ExpressTaxExempt's blog every Friday in April for friendly financial tips from your favorite 990 series e-filing provider. This Friday we will be discussing budgeting, continue reading to learn more!

What is a Budget?

A budget acts as a guide for an organization's income and expenses for the year. It is a snapshot of your organization's financial health and can be referred back to throughout the year to see if your organization is on par to meet its cash flow goals.

Budgets are important for the long-term health of a non-profit and are instrumental to financial planning. For this reason, your organization should create and review a new budget every year. 

Creating a Budget: 

Think of your budget as a roadmap for where your income is going each month. Organizations typically use budgets as a way to document their financial goals for the quarter or year.

Use a Template:
Did you know that your most recent 990 return can help you format a budget? Your 990 return contains vital information about your organization including:

Analysis of Revenue
Expenses and Disbursements
Net Assets and Balance Sheets
Compensation of Officers, Directors, Trustees, and Key Employees
Contributions, Gifts, and Grants paid
Use the information from your past returns to inform decisions for your upcoming budget. The format of your 990 return can also act as a template for your budget. Dividing your budget up into these different categories could help you organize information making it easier to reach your organization's goals.

Breaking revenue into categories can help you delegate which funds should go to which programs.

Define a Timeline:
When you are looking to format a budget, keep your desired timeline in mind. Your organization's timeline may impact whether you decide to format your budget monthly, quarterly, or annually. Whichever you choose, make sure that you are allowing your organization enough time to meet each goal with allotted time to review how each goal was met

Stay Flexible:
Don't be worried if your organization's budget changes throughout the year. Your organization's financial health will likely shift throughout the year, positively and negatively. This is why it is important to review your organization's budget often and reflect on how goals are being met. 

Stay Informed:
Nonprofit organizations can find themselves especially vulnerable to periods of financial uncertainty. You can help your organization avoid an economic crisis by consulting reliable news sources. Staying informed and calm during these periods of uncertainty can help your organization properly adjust its budget to respond to unexpected national or global crises. 

Get your Staff Involved:
One of the biggest roadblocks nonprofits face in achieving financial literacy is employees who, though very knowledgeable in the field they are working in, do not fully understand the financial health of the organization. 

Improve your organization's financial literacy by getting all of your staff involved in the budgeting process. This will help them better understand your organization's main sources of income and how this income is being spent throughout the organization.

Your budget should be organized in a way that any staff member can understand. Keeping your records organized is a simple way to help your employees better understand your organization's financial needs and will save you time in the long run as it will be easier to find and input data.

File Form 990 on Time:
Organizations that fail to e-file a Form 990 Series Return could be susceptible to fines from the IRS and can even lose their tax-exempt status. An unexpected fine from the IRS could disrupt your budget. Avoid unexpected charges from the IRS by filing your Form 990 Series Return in a timely fashion using ExpressTaxExempt. 

ExpressTaxExempt

ExpressTaxExempt is here to help your nonprofit or tax-exempt organization succeed. Nonprofits choose ExpressTaxExempt as their go-to e-filing solution to provide an accurate, safe, and convenient e-filing experience for their IRS Form 990 returns. ExpressTaxExempt supports Form 990, 990-N, 990-EZ, 990-PF,990-T, 1120-POL, and extension Form 8868.