Celebrate Financial Literacy Month with Financial Goals your Organization can Implement Today!
Celebrate the last Friday of Financial Literacy Month with ExpressTaxExempt and tips for setting financial goals for your organization!

|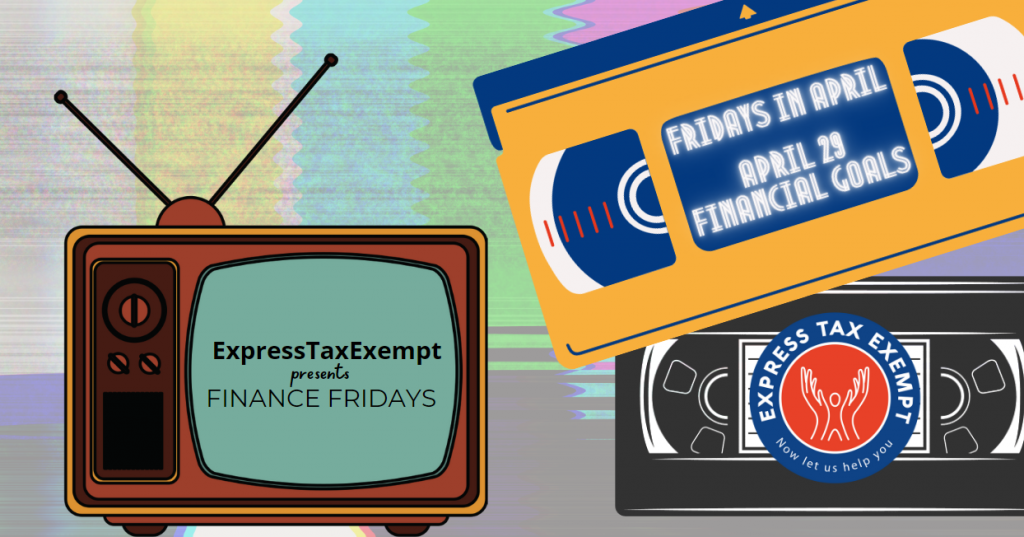 We made it! Today is the last Friday of April, but don't worry! Financial Literacy Month isn't over just yet! We're here to celebrate one last Friday with the final piece of our Finance Fridays series.  

Throughout April, we have covered important components of financial literacy, including savings, scam and fraud protection, debt management, and budgeting tips. Each of these components is an important aspect of the financial health of your organization. 

One of the best ways to improve the financial health of your organization is to set financial goals, especially goals that surround each component of financial literacy. This Friday we will be discussing financial goals and the steps your organization can take to improve financial literacy.


Financial Challenges that Nonprofits Face:


Does your organization have what it takes to stand the test of time? It's easy for donors to feel confident in a nonprofit that performs well financially. However, nonprofit and tax-exempt organizations face challenges every day that can place a strain on their financial health. 

Awareness of the challenges that face these organizations can help organization leaders avoid these challenges when in times of financial adversity. Here are a few challenges nonprofit organizations face: 

1. Lack of Financial Literacy
Lack of financial literacy, or all-around knowledge gaps, is one of the most common challenges that nonprofit organizations face. This is largely due to the fact that nonprofit leaders are often experts in their field of study, but not so much in financial or accounting matters.

Financial literacy involves an organization's money management. Strong financial literacy can help an organization create a sound financial foundation, leaving them less vulnerable to financial pitfalls. Financial literacy goes further than one or a few employees understanding the financial health of your organization. It is crucial that all staff members understand your organization's financial standings as this leads to overall better management. 

If you feel as if your organization is lacking in financial literacy, take some time to review ExpressTaxExempt's blog. Here, you will find a few blogs intended to increase your organization's financial literacy. However, if your organization is really struggling, it may be time to seek a CPA to assist with financial matters. 

2. Poor Budgeting 
Though your organization may have a budget, do you review and make revisions to it each year? If your organization has been operating off the same budget for multiple years now, it's time to make a change. 

A strong budget can be the difference between your organization surviving economic adversity and falling flat. Your organization's budget should be reviewed multiple times throughout the year to confirm it is still effective for the state of your organization's financial health. Click here to learn more about better budgeting practices. 
3. Inconsistent Donations
Donations comprise a large percentage of a nonprofit's annual income. The issue with relying on donations to fund your organization is that donations are never guaranteed. This inconsistency can impact an organization's financial health if they begin struggling to secure donations.

Along with reevaluating fundraising tactics, e-filing your organization's 990 series return on time could help your organization increase donations. Donors feel more confident in their donations when they understand the mission of an organization. Most Form 990 returns ask organizations to write out their organization's mission and demonstrate how funds are used to promote this mission. Providing this information to the public by e-filing a 990 series return each year can increase the public's confidence in your organization. 


If all of these challenges sound familiar, don't panic! It isn't too late to set goals to improve the financial health of your organization. 


Different Types of Financial Goals:


There are three types of goals: short-term, mid-term, and long-term. Here are some examples of goals you can set for your organization: 


Short-term:  


Short-term goals are a great place to start. Setting attainable, short-term goals can give your organization the momentum to reach the larger, bigger picture goals you see for your organization. 

Short-term goals typically span the length of 12 months or less. Set short-term goals that can act as building blocks toward your long-term goal. Below, we have laid out a few short-term goals that can help you get started towards attaining long-term financial stability. 

Fundraising Events: Do you take attendance at fundraising events? If not, it's time to start counting how many donors your events bring in. If you do have a record of past event attendance, make goals based on those numbers. 
For example, if at your last annual gala you had an attendance of 200 donors, a good short-term goal could be to increase attendance this year by 5%. That would increase your attendance to 210 donors! Every little bit counts towards increasing the financial longevity of your organization. 

Social Media: Active social media accounts full of relatable and relevant content can increase the visibility of your nonprofit, leading to more donations! Start small with a goal to increase the audience on your most popular social media platform. This could look like a goal to increase likes on Instagram posts or to increase shares on Facebook. 
Writing Grant Proposals: Your organization may require more than donations to succeed. Securing grants can help fund your organization's mission, especially when your organization is struggling financially. 
If you have never written a grant for your organization, a good first step may be to find a professional grant writer. A lot of details are needed to construct a persuasive grant, finding someone who has experience writing grants can bring your organization one step closer to reaching your long-term goals. 


Mid-term: 


Mid-term goals may or may not be related to your short-term goals, but they will still play a crucial role in securing long-term financial stability for your organization. Mid-term goals can vary in length anywhere from 2-10 years. 

Recruitment: If your organization suffers from a high turnover rate it's time to invest in your recruitment in order to retain more talent. Improving an organization's recruitment process takes time and should include a review of training materials and the training process. 
Recruitment should span further than training. It may be time to take a look at your organization's chain of command to see if your organization should revise communication practices. Encourage an open-door policy with your staff and reciprocate by sharing appropriate back-of-house information. This will help staff members feel more involved and appreciated.

Does your organization offer professional development opportunities? Offering your staff opportunities to grow professionally can make them feel valued, while simultaneously giving them professional tools that they can use to help your organization grow! 

Reputation: It will take a combination of short-term and long-term goals to improve your organization's reputation. Reputation is one of the most important aspects of any organization, but especially nonprofit organizations as reputation can directly impact donations. 
One of the simplest ways to build a positive reputation for your organization is by e-filing a 990 series return on time each year. Let ExpressTaxExempt help improve your organization's reputation by filing your 990 series return today! Click here to file now. 

Brand Visibility: Brand visibility is aimed at increasing the public's awareness of your organization's mission and goals. There are multiple steps an organization can take to increase brand awareness, including paid advertisement campaigns, social media engagement, and events for the public. 
To meet this mid-term goal, set small goals for your organization that could include revamping your organization's marketing strategy. Start a social media campaign, design t-shirts for your volunteers and staff to wear and public, and make an attempt to be more active within your community. 


Long-term:


Long-term goals will be the most complex, involving extensive time and planning. A long-term goal will take over 12 months to achieve, typically ranging as long as even 5-10 years. Long-term goals require frequent vigilance to ensure that your organization is on track to meet the goal. 

If your organization's long-term goal is achieving financial stability, leadership will need to implement a combination of short-term and mid-term goals. This may look like diversifying your current operations. If current operations do not seem to be cutting it, it's time to take an open approach toward growing your organization.

Organizations that wish to increase their financial longevity should be open to considering new programs and new forms of fundraising. Virtual events have grown in popularity significantly since the COVID-19 pandemic, make sure your organization is not missing out on an untapped digital market. 

Don't try to take on restructuring your organization's financial goals alone. Long-term financial stability requires a team. Make sure all of your organization's leaders are involved in the goal-setting and the budgeting process, but don't forget to include your lower staff members and volunteers as well. You may be surprised by the ideas that come from staff and volunteers who are genuinely passionate about the success of your organization!


ExpressTaxExempt:


April is almost over, but ExpressTaxExempt is here all year long with helpful 990 series return e-filing tips, IRS updates, and nonprofit tax compliance. Come back every week for helpful blog articles dedicated to assisting nonprofit and tax-exempt organizations! 


Does your organization operate on a calendar tax year? If so, you may have a return deadline of May 16, 2022. Click here for more information regarding the May 16 deadline.