Easy, Breezy, Tax Compliant: E-File Form 990-EZ before the May 16th Deadline with ExpressTaxExempt
The May 16th deadline is just around the corner! ExpressTaxExempt can help your organization meet its Form 990-EZ deadline. File today!

|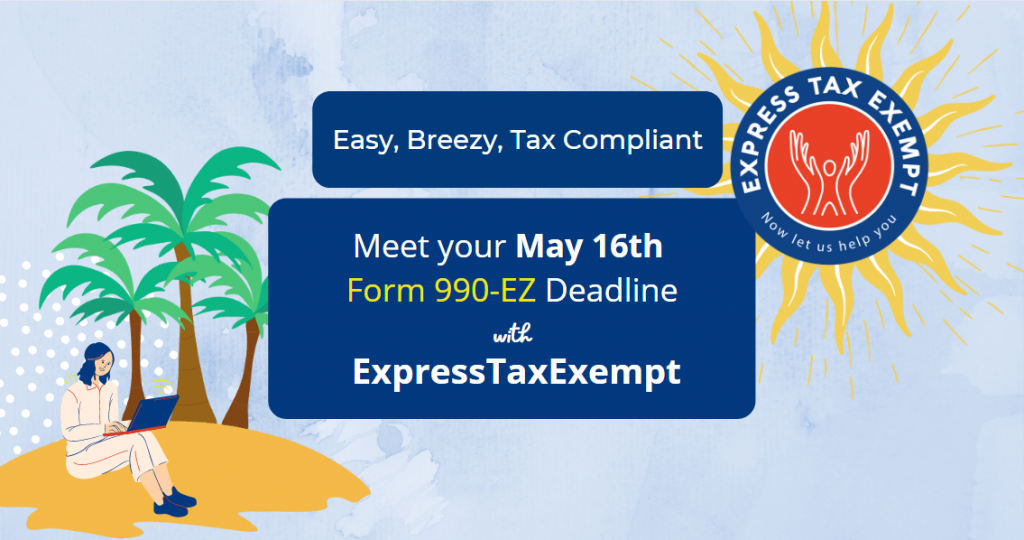 IRS compliance looks beautiful on your nonprofit organization! Prepare for the May 16th 990 Series Return Deadline with ExpressTaxExempt. If your organization operates on a calendar tax year or you filed an extension Form 8868 for the November 15 deadline your organization's Form 990-EZ deadline may fall on May 16, 2022.



Form 990-N or 990-EZ?

The IRS provides organizations with an array of 990 forms. In fact, ExpressTaxExempt supports Form 990, 990-EZ, 990-N, 990-PF, 990-T, 1120-POL, and extension Form 8868. With all these forms, understanding which one is designed for your organization's size and gross receipts can be confusing. In general, most small to mid-sized nonprofit organizations will be required to file Form 990-EZ or 990-N. 

Form 990-EZ is a shorter version of Form 990, designed for nonprofit and tax-exempt organizations with gross receipts between $50,000 and $200,000 and totals assets less than $500,000.

E-File Form 990-EZ Today!


Form 990-EZ is slightly more demanding than Form 990-N and requires a bit more information. It's never too early to file and preparing information before you sit down to file is the best way to speed up your filing process. You will want to collect the following information before you file:

Revenue, expenses, and changes in net assets or fund balances
Balance sheet
Statement of program service accomplishments
List of officers, directors, trustees, and key employees
Itemization of grants received, if applicable

It's also smart to confirm you can access your ExpressTaxExempt account before the May 16 deadline. Follow this guide to update your account information. Forgot your password? Click "Forgot Password" on the ExpressTaxExempt sign-in page to reset your account password.

There are 8 Schedules in total available for Form 990-EZ that may need to be attached to the tax return based on particular organizational activities. These Schedules include Schedule A, B, C, E, G, L, N, and O.

Need more time?


You can extend your organization's deadline by e-filing Form 8868 for a 6-month extension. Nonprofit and tax-exempt organizations do not need to provide a reason to receive an automatic extension. To receive this extension you will need to e-file Form 8868 before the May 16 deadline.

E-file your extension today for an automatic 6-month extension!

ExpressTaxExempt

Are you ready for the May 16 deadline? It's never too early to file! File now to avoid potential fees from the IRS! ExpressTaxExempt can help you meet your May 16th Form 990-EZ deadline and remain IRS compliant.


For more information regarding the May 16th deadline or more tips to help simplify your filing process click here!