Upcoming Free Webinar: Live Q&A
Register for our upcoming live Q&A webinar!

|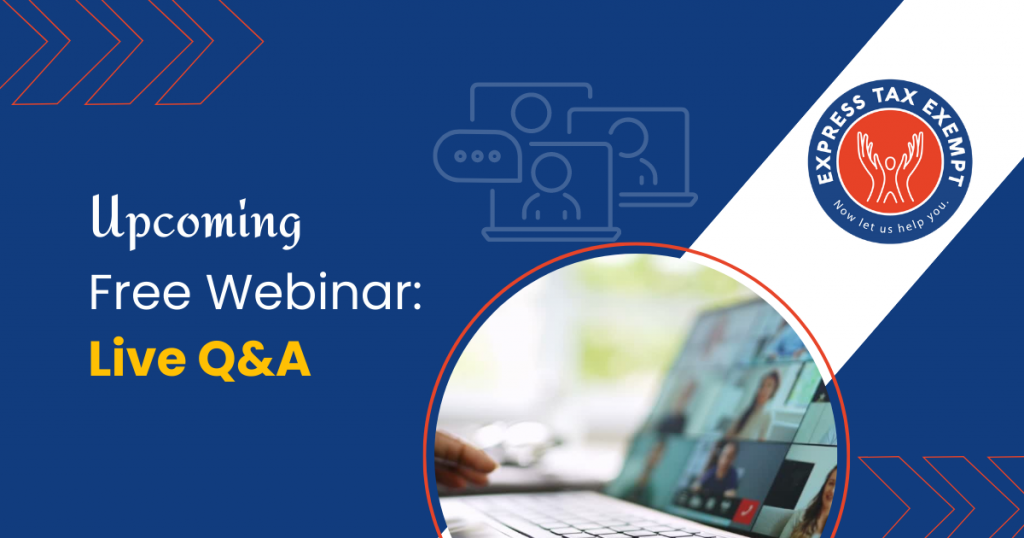 Filing a 990 series return can be difficult even for experienced clients. With the November 15th deadline approaching, this can be a stressful time. ExpressTaxExempt is always happy to help our clients in any way possible.

One of our favorite ways to help is by hosting webinars. With the success and positive feedback of our recent webinars, we thought this would be a great opportunity to hear from you.
Attend Our Free Webinar
Whether it's your first or your fortieth time filing a 990 series return, everyone has questions from time to time. ExpressTaxExempt understands this. That's why Nikita, our product manager, is offering a free webinar on November 10th, 2022 at 11 AM EST.
The webinar will be focused on answering clients' questions in real time. Nikita will be providing informative and helpful solutions to your most pressing questions.
Some common FAQs are:
Is there a penalty for filing Form 990 late?
What 990 series form should I file?
What information do I need to file?
How do I determine appropriate Schedules for my form?
Our team is here to share the information you need to file, but we are not tax professionals and do not give tax advice.

Registration is free and spots are saved on a first-come-first-served basis, so don't hesitate! Reserve your spot here today!