ExpressTaxExempt Now Supports E-filing of Form 990-T
E-filing Form 990-T with ExpressTaxExempt is quick, secure, and accurate!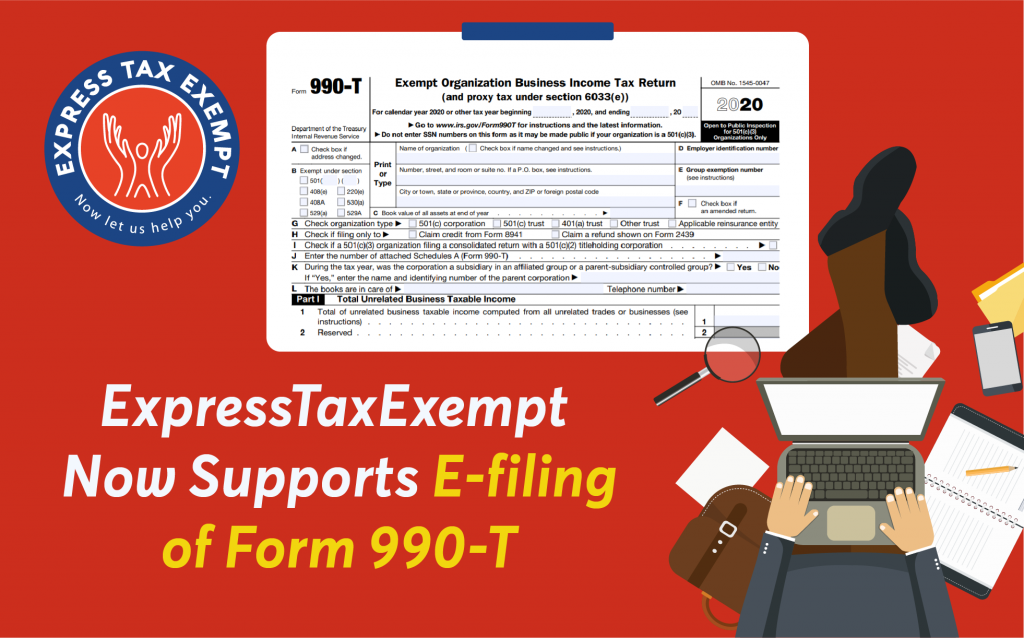 As a nonprofit or tax-exempt organization, we know you have a lot on your plate. Filing your required tax forms is often another added worry that your organization must deal with. However, when you use an IRS authorized e-filing service such as ExpressTaxExempt, you can file your annual returns quickly and easily.

Following guidelines laid out in the 2019 Taxpayer's First Act, the IRS now requires electronic filing for Form 990 returns. ExpressTaxExempt supports e-filing of Forms 990-N, 990-EZ, 990, 990-PF, and extension Form 8868. As of recent, ExpressTaxExempt will also be supporting e-filing for Form 990-T as well!

Exempt organizations can easily fulfill the new IRS e-filing requirements with ExpressTaxExempt because we offer a safe, secure, and accurate e-filing experience for all of our clients. E-filing ensures quick processing of your return and with ExpressTaxExempt you will receive your returns filing status instantly.

What is Form 990-T and Who Must File it?

Form 990-T, Exempt Organization Business Income Tax Return (and Proxy Tax Under Section 6033(e)), is an information return used by exempt organizations to report unrelated business income and tax liabilities

Exempt organizations are required to file Form 990, 990-EZ, or 990-PF and have a gross income of $1,000 or more from unrelated businesses for the tax year must file Form 990-T.

Employees' trusts, defined in section 401(a), IRAs (including SEPs and SIMPLEs), Roth IRAs, Coverdell ESAs, or 408(a) (Archer MSAs) must file Form 990-T by the 15th day of the 4th month after the end of their tax year. Other organizations must file Form 990-T by the 15th day of the 5th month after the end of their tax year.
How Do I E-file Form 990-T with ExpressTaxExempt?

The filing process with ExpressTaxExempt is as simple and straightforward as possible. After you create your free ExpressTaxExempt account or sign in to your existing account, there are only 5 simple steps you need to complete to submit your Form 990-T directly to the IRS.

Step 1 – Enter your EIN and search for your organization's details
Step 2 – Select the tax year you're filing Form 990-T for and complete your form using our direct form-based entry
Step 3 – Once you enter all of the required information, we will check your return for any mistakes. If we find errors, you'll be able to correct them quickly.
Step 4 – Review your form and make any necessary corrections
Step 5 – Lastly, transmit your return to the IRS.
ExpressTaxExempt is Your Go-To E-filing Solution for Form 990-T

ExpressTaxExempt is an IRS authorized e-file provider and a preferred option for thousands of Exempt organizations. Our streamlined e-filing system allows organizations to e-file their IRS Form 990-T securely and accurately.

When you e-file Form 990-T with ExpressTaxExempt, you can take advantage of our direct form-based entry as well as attach multiple Schedule A's for free. You can also ensure your return is error-free with our internal audit checks and the ability to invite your organization's board members to review and approve all returns. If your form does happen to be rejected by the IRS for some reason, you can re-transmit any rejected return for free. And as always, our dedicated customer support team will be there to assist you during your filing process whenever necessary.

ExpressTaxExempt is here to ensure your organization remains IRS compliant and meets your Form 990-T deadline with ease.