How To Help With Hurricane Dorian Relief Efforts
|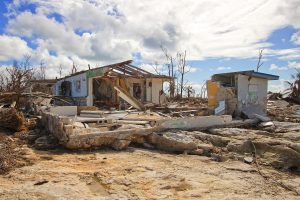 Widespread attention has been on Hurricane Dorian, its path, effects, and destruction.
After causing mass destruction within 48 hours of landfall in the Bahamas as a Category 5 storm, the hurricane has been reduced to a Category 2 but is now making its way towards Florida's northeastern coast and possibly, the Carolinas.
According to CBS News, seven people have died, thousands of homes are believed to be damaged or destroyed, and thousands do not have drinking water.
The Bahamas and other areas that will be affected by this storm need your help! Here are a few ways on how to help with Hurricane Dorian relief efforts.
How To Help With Hurricane Dorian Relief Efforts
"The most urgent needs at this time are shelter, food, water, and communications…" said Stephen McAndrew, Deputy Director for the Americas of the International Federation of Red Cross and Red Crescent Societies.
Relief Efforts in the Bahamas
Know that making a donation will help victims directly by donating to a charity or hurricane relief effort near the area of devastation. These are a few location-based relief efforts that could use your support:
Bahamas Red Cross
The Red Cross of Bahamas currently has 200 volunteers on-site in the Abaco Islands and Grand Bahama. Online donations can conveniently be made, here.
This initiative has set up a disaster relief fund that supports people impacted by the hurricane. With a total goal of $2 million dollars, GlobalGiving will use donations to provide emergency supplies.
Note: All donations to this fund will exclusively support relief and recovery efforts.
Grand Bahama Disaster Relief Foundation
Created by the Grand Bahama Port Authority, this foundation gives necessary insight on how to help with relief efforts as well as providing a list of locations where donations can be dropped off in the United States.
HeadKnowles
Based in the Bahamas, this organization facilitated relief operations during Hurricane Matthew & Hurricane Joaquin. Online donations can be made here.
Always there providing emergency assistance to survivors and first responders, The Salvation Army can always utilize donations as they stay on the frontlines of the crisis.
You can easily make a donation towards relief efforts in the Bahamas or the United States,
here
.
World Central Kitchen
Led by Chef José Andrés, the World Central Kitchen relief team has arrived in Nassau and will provide food to those affected by the natural disaster. Mobile kitchens will be set up on the affected islands. Click here to donate.
About ExpressTaxExempt
We do more than just help you help others; ExpressTaxExempt is dedicated to providing the best and most efficient e-filing experience for tax-exempt organizations.
We help you remain tax-exempt and free from IRS penalties. Create an account or sign in today to handle your nonprofit organization's tax filing needs.