How to Continue where you left off on a Form and download a draft PDF with ExpressTaxExempt
Follow these steps to continue filing your 990 series return!

|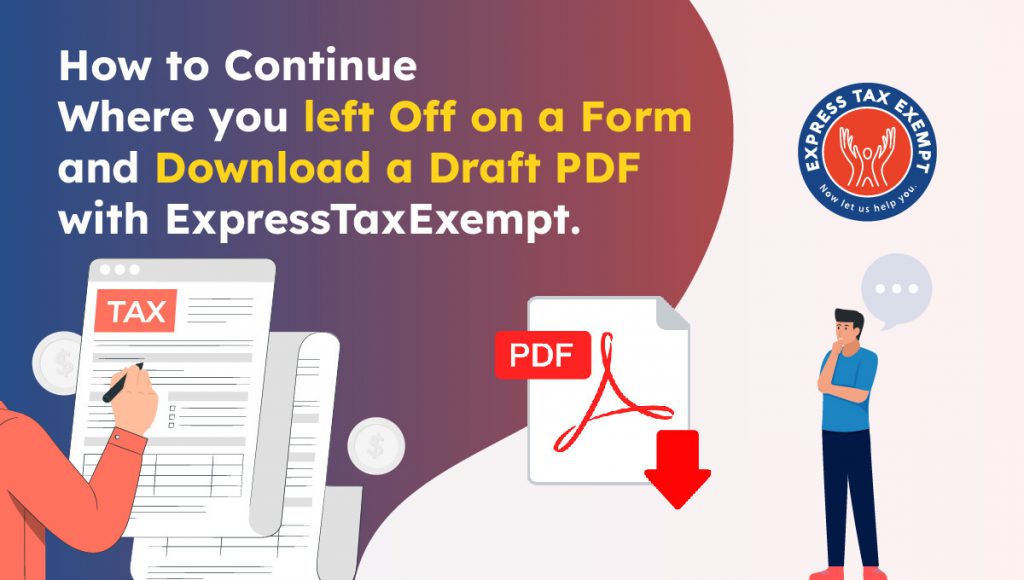 Filing a 990 series return can take some time. While working on a form in ExpressTaxExempt, your progress is automatically saved as changes are made. When you need to take a break from completing your return, you can exit the site and come back to it at any time.

Here's how to continue your form when you are ready to pick up where you left off.
ExpressTaxExempt provides the ability to access your "In-Progress" form from two different locations.

Once signed in, go to Dashboard in the upper right corner and click the orange "Continue Where I left off" button.
You can also navigate to the Tax Returns tab and find the return you need to work on and click "Continue Where I left off" to the right of the return.
---
While you are working on your form, you can view a PDF Draft at any time.

If you are on the Dashboard, you can select the icon towards the middle of the screen that says "Draft Form 990" This will give you the option to view or download a draft copy of the form with the information you have already provided. 

If you are on the form and working with the Interview-Based format, you can select the small PDF icon from the right side of the screen to download the PDF.

If you are on the form and working with the Form-Based format,
From the upper right-hand corner of the form, select "Download"
Your download of the form will have the "DRAFT – NOT FOR FILING" watermark on it while it is still an "In-Progress" form, once you transmit the form, that watermark will no longer appear. You can navigate through the draft using the page search bar on the left side of the download.

ExpressTaxExempt
Want to see steps for other types of organizations or other 990 series forms and schedules? Comment below and we'll make your request a future blog!