#GivingTuesday
Giving Tuesday is quickly approaching! ExpressTaxExempt is here to help you prepare!

|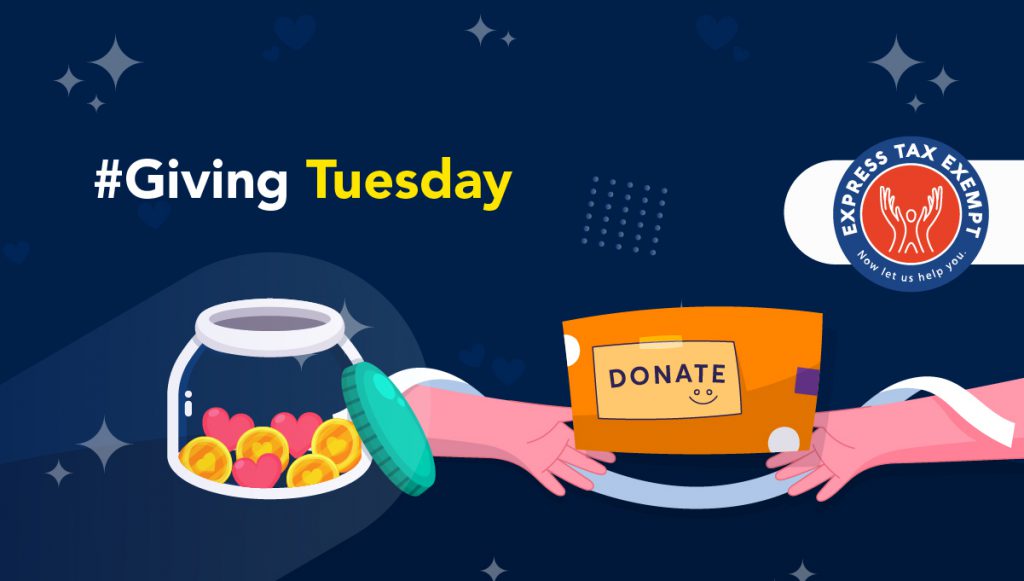 As we spend thanksgiving reflecting on what we are thankful for, Giving Tuesday is a great way to take action and give back to your community.
#GivingTuesday is a day dedicated to 'doing good.' Over the years, Giving Tuesday has grown into a global movement that inspires people to give, collaborate, and spread generosity. Giving Tuesday is celebrated annually on November 30th.
Nonprofits need our support and Giving Tuesday is the perfect time to show how much we appreciate these organizations! Anyone, from anywhere in the world can get involved on Giving Tuesday.
Giving Tuesday is celebrated by thousands of nonprofit organizations and it is one of the most popular and effective ways for organizations to raise money. With so many people joining the movement, you might be wondering, how can my organization ensure our voice is heard? ExpressTaxExempt has gathered a few different ways your organization can help rally your community and create a rise in support for your cause.
Develop a Strong Social Media Presence
For starters, it's important to announce that your organization is participating in Giving Tuesday. You want to get people talking about your organization, so you should try making your social media posts as interactive as possible. 
Leading up to the big day you should highlight your organization's mission and accomplishments. People will be researching different organizations, so showing the impact you have made, and will continue to make, will get people interested in participating in your cause.
Here are some different ways to help get your audience involved and engaged with your posts:
Use the hashtag #GivingTuesday
Create a group for all of your followers and supporters. An example of this would be creating a Facebook group where members can talk with each other and repost relevant information
Instagram/Facebook live streams are a great way to discuss your organization on a more personal level and answer questions from supporters
Ask your followers to share posts about why they support your organization
Create Different Ways for your People to Show Support
Creating different resources and opportunities for people to show support helps make you relevant and influential. Creating fun and exciting ways for people to give back will help motivate them and boost engagement. There are so many different ways your community can give back to your organization, so get creative! Here are some different campaign ideas for Giving Tuesday:
T-shirt Fundraiser – Supporters can purchase t-shirts with your logo on it
Volunteer Opportunities- Non-financial method of giving back to your mission
Host a 5K – A great way for your community to come together
Photo Contest – A fun and engaging way to strengthen your social media presence and engage with followers
Virtual Giving Event- supporters can easily and quickly donate money on social media
Segment Your Email Campaigns
Your emails leading up to Giving Tuesday as well as during it will be very important. You should be sending your supporter's emails leading up to the big day with helpful information about your cause and how they can participate. It's important to inform your supporters about the day but also build up anticipation about it, so keep your emails fun and inspiring!
However, with so many different emails, you'll want to make sure the right people are actually reading them. One way you can make sure your message gets in front of the right people on Giving Tuesday is to segment your email campaigns for specific audiences. Here are a few ways you could segment your audiences for Giving Tuesday emails:
Ask current monthly donors to upgrade their gifts
Ask lapsed donors to give again
Ask volunteers who have never donated to donate
Sending follow-up emails after Giving Tuesday is also important. You should always follow up with donors and thank them for their contributions! Sending personalized messages like this will make donors feel appreciated and encouraged to continue donating to your organization.

ExpressTaxExempt

We hope your organization has a successful and rewarding #GivingTuesday!
Your organization may need to report gifts and contributions you receive if they exceed a certain amount. With ExpressTaxExempt's bulk uploading option, you can easily and quickly upload all of your received contributions at once.

Don't forget to share with us your acts of giving in the comment section below!