Free Webinar: How to E-file Tax Exempt Forms and Maintain Compliance
Reserve your spot for tomorrow's free webinar!

|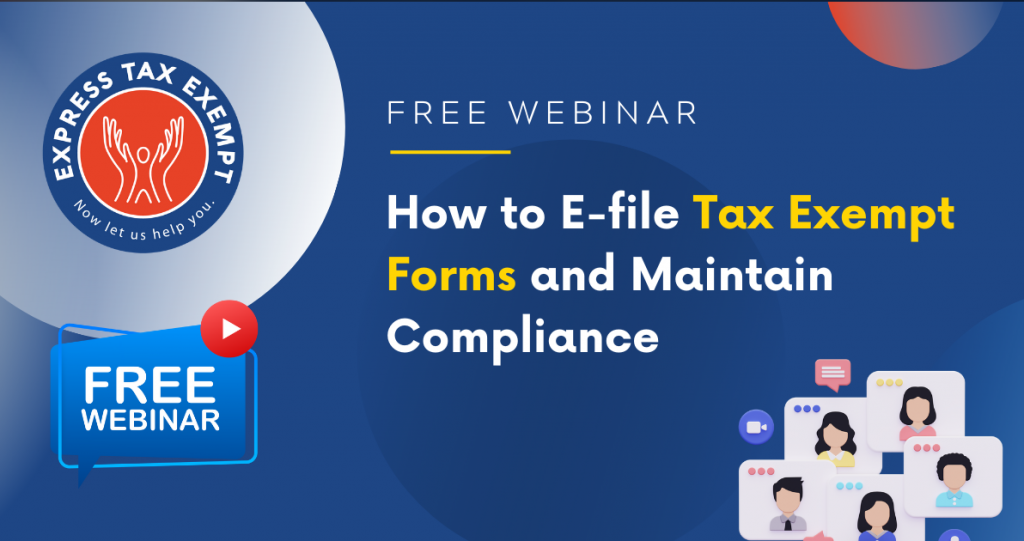 When it comes to IRS requirements, tax-exempt organizations have very specific obligations that must be completed each year in order to maintain compliance. Navigating these requirements, especially when it comes to filing the Form 990 series. 
Organizations must determine the size of their organization and its annual gross receipts to be sure that they file the correct forms. Then there is the actual process of filing which can be daunting in itself. 
Our team understands that these requirements can be overwhelming, especially when you're a small team of employees or maybe even volunteers.
With a major annual 990 deadline coming up for many tax-exempt organizations on November 15, 2022, now is the time to really start focusing on meeting these IRS obligations. 
Join Us for a Free Webinar
Don't worry, our team is here to help! Nikita, the project manager of ExpressTaxExempt will be offering a free webinar on September 15, 2022, at 11 AM EST. In this webinar, Nikita will walk you through the IRS e-filing requirements for tax-exempt organizations and tips for simplifying this process. 
Here is what you can look forward to learning!
What are your IRS e-filing requirements?
What information do you need to start filing?
How do you determine your organization's deadline?
How to easily e-file your 990 return with ExpressTaxExempt
Registration is free and spots are available on a first-come, first-served basis. To reserve your spot today, click the button below!