Exempt Organizations Need To File IRS 990 With ExpressTaxExempt
|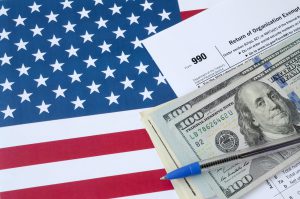 We think it's pretty safe to say that there's no place like home.
If you filed IRS Form 990 within the past year, you became familiar with our sister product TaxBandits, which helps exempt organizations tackle the world of compliance beyond IRS 990 forms.
After much consideration and feedback from awesome clients like yourself, we have decided to relaunch ExpressTaxExempt as the reigning hub for "all things 990!"
No need to worry–if you enjoyed all of the bells and whistles of TaxBandits, you can still e-file your nonprofit tax reports in the same place as you can your W-2, 1099, and even your quarterly Form 941.
Our mission at ExpressTaxExempt will always be to keep your organization compliant and exempt from taxes with simplified e-filing.
Instead of navigating through several websites for the tax-exempt forms you need, we've consolidated all our resources under one name and brand. Our service is dedicated to providing the best and most efficient e-filing experience for tax-exempt organizations, no matter how big or small.
Your account information will remain the same for both ExpressTaxExempt and TaxBandits, so there's no need to worry about creating a new account and remember yet another complicated password.
Best of all, we now offer special bundled pricing which allows you to save 5% when you bundle your Form 990 filing with your 8868 Extension Form. Check out the new pricing, here.
Now that ExpressTaxExempt is back up and running like never before, come on back home and visit our website to get an early start on your IRS Form 990.