8 Ways To Give Back This Memorial Day
Celebrate Memorial Day with ExpressTaxExempt!

|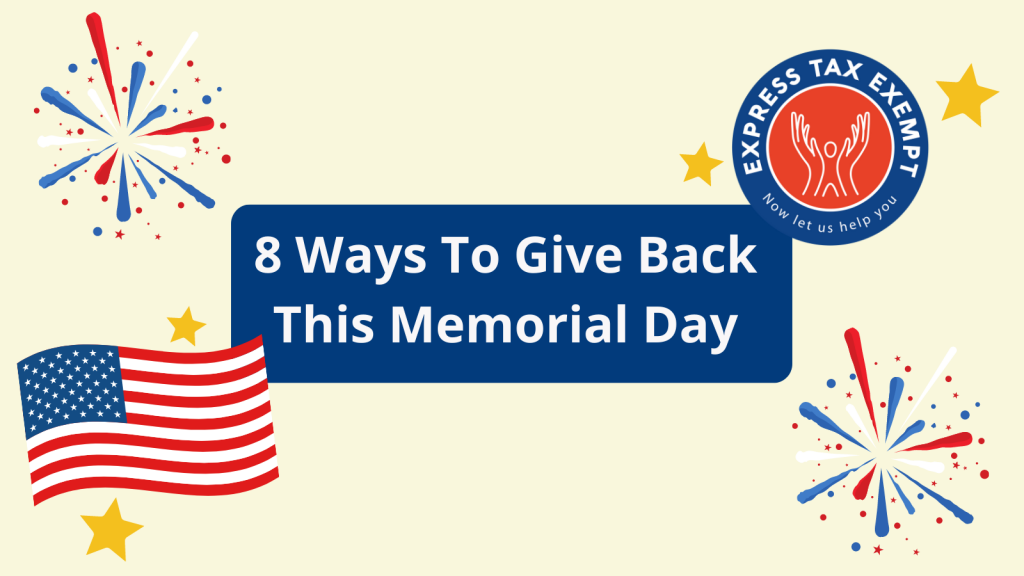 Memorial Day is approaching on May 30th, 2022. Memorial Day is a federal holiday designated for honoring the men and women who died while serving in the U.S. military. Many Americans observe Memorial Day by visiting cemeteries or memorials, holding family gatherings, and participating in parades. Memorial Day is also an excellent day for fundraising and raising awareness for various veteran-related charities.

To celebrate Memorial Day, we urge you to honor the fallen American soldiers and even go the extra mile by raising funds in the name of those soldiers and their community. We put together a list of different activities and fundraising ideas you can participate in this Memorial Day:
Donation Opportunities

Our Military Kids Inc. 
Our Military Kids Inc provides support and recognition to military children ages 3 to 12th grade. The organization works to raise funds for fees associated with athletics, fine arts, and tutoring programs. Donating to this cause is a great way to celebrate Memorial Day and help children whose parents are currently deployed and/or injured in combat. Click here to donate now.  

2. K9s for Warriors
K9s for Warriors provides service dogs for warriors suffering from post-traumatic stress disorder, traumatic brain injuries, and other trauma as a result of service. By donating to this organization, your generosity will go right to work to help pair a struggling Warrior with a shelter dog trained to help veterans. With one act of kindness, you can save two lives!  Click here to donate now. 

3. Veterans Matter
Veterans Matter works directly with the U.S. Department of Veterans Affairs (VA) and local VA homeless programs to provide rental deposits and the first month's rent for chronically unhoused veterans.  This year, the VA is committed to placing at least 38,000 Veterans experiencing homelessness into permanent housing during the calendar year 2022. Click here to donate now. 

4. Combat Wounded 
Combat Wounded is an organization that partners with various Universities, medical professionals, and institutions to help gather research on PTSD, TBI, and Orthotics and Prosthetics so we can better understand the difficulties faced by wounded or injured veterans daily. Click here to donate now.

Activities to Participate In

5. Go to a Parade
Cities and towns across the United States host Memorial Day parades that incorporate military personnel and members of veterans' organizations. Attending one of these parades can help raise funds for various organizations that support veterans.

 You can also volunteer at a parade or event hosted by your city. Volunteers are an invaluable resource, and by serving those who served our country, you demonstrate your support.

6. Participate in the Murph Challenge
The Memorial Day Murph Challenge is held in honor of Lt. Michael Murphy who was killed in battle. The Murph Challenge is a nationwide event held throughout many CrossFit gyms and raises funds to support the Michael Murphy Memorial Scholarship Fund. The event consists of a tough, military-style workout that can be tailored to suit all fitness levels. 

7. Visit a Veterans Cemetary 
On Memorial Weekend, many people visit cemeteries and memorials to honor those who have died in military service. Many cemeteries host ceremonies and encourage flowers, wreaths, and flags to be left behind on gravesites. 

8. Participate in a Race or Walk-a-thon
A race or walk-a-thon is a great way to gather family, friends, and members of your community to support a cause and honor fallen heroes. Oftentimes these events will have fundraising raffles – which is a great way to raise additional revenue at any event.

The Berkshires are hosting their sixth annual Memorial Day Races. This is a yearly fundraising event that helps to raise awareness and funds for Team Red, White, and Blue, a nonprofit organization helping veterans connect with their communities through physical and social activities. The event also raises funds for Soldier On, a nonprofit organization helping homeless veterans.

Participants of the Berkshire Race can participate in a marathon, half marathon, 10k, 5k, kids run, 15k trail run, road challenges, and dirt road race. This is a fun event for families and people of all fitness levels and a great way to raise money and awareness for two awesome causes. 
ExpressTaxExempt
ExpressTaxExempt wants to thank all of the brave men and women who have made the ultimate sacrifice for our freedom.